Cutting-Edge Tech Labour Market Platform Tackles Canada's Digital Skills Gap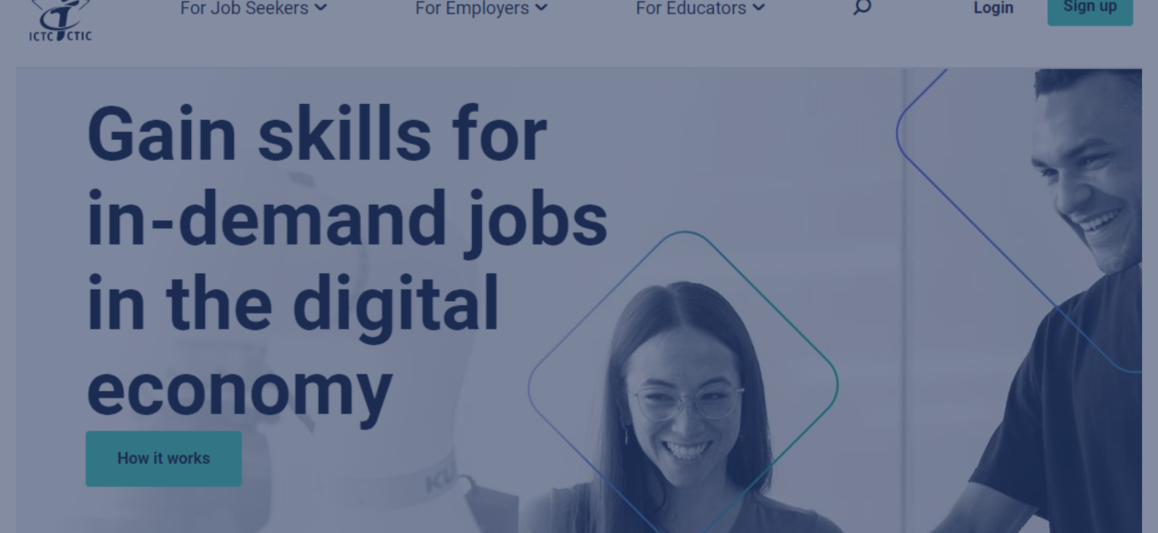 Ottawa, March 7, 2023 - Today, the Information and Communications Technology Council (ICTC) launched the next generation of eTalent Canada, a platform that aims to transform the way Canadian job seekers, employers, and educators succeed in today's rapidly evolving economy. With cutting-edge resources and critical labour insights, data, trends, upskilling course recommendations, and access to a qualified talent pool, eTalent delivers step-change solutions for strengthening Canada's digital advantage in a global economy.  
Despite the current correction in the tech labour market, many job vacancies in key digital occupations remain unfilled. Also, the medium to long-term demand for digitally skilled talent is strong, forecasted to require an additional 250,000 key positions in the digital economy by 2025, for an overall labour market of around 2.26 million workers. ICTC's eTalent responds to this demand for innovative, digitally skilled workers and the need for lifelong learning by addressing the specific needs of job seekers, employers, and educators. 
Prepares Job Seekers for Success  
In response to the challenges job seekers face in identifying in-demand roles and developing the necessary skills to succeed in those roles, eTalent provides the latest Canadian Job Market Information, identifies regional skills gaps for in-demand roles supported by Employment Data, and offers access to ICTC's proprietary Skills Mapping Tool. The platform also provides educational pathways for upskilling and tracking progress and accomplishments. 
"Finding the right job starts with finding the right match," said Namir Anani, President and CEO of ICTC. "This new and all-encompassing eTalent platform enables advanced capabilities like the Skills Mapping Tool that provides a holistic approach to accurately gauge a jobseeker's technical and human-centric skills and matches them with in-demand jobs." 
Supports Employers  
eTalent provides comprehensive support for employers seeking to strengthen their digital talent pipeline and upskill their existing workforce. The platform offers a range of tools and resources to address critical HR needs, including Diversity, Equity, and Inclusion (DEI) tools, hiring practices, and assessments that help employers identify and fill their digital skills gaps. eTalent also provides access to wage subsidy work integrated learning programs, enabling employers to hire and upskill digital talent for long-term success. To date, ICTC has facilitated a total of 15,733 paid work placements for post-secondary education students, recent graduates, and newcomers, enabling companies to reduce their hiring and training costs by up to 70% while expanding their workforce to improve competitiveness in the digital economy.  
Bolsters Digital Skills in Education 
In support of K-12 educators who desire to strengthen the technological literacy of Canada's future workforce, eTalent provides opportunities to enroll students in digital skills learning, competitions, and other resources. Since 2017, 41,557 students and 2,091 teachers have taken part in ICTC's K-12 programs. This is over 10,000 hours of student training and over 2,000 hours of teacher training from over 363 schools across Canada. Of the students/educators surveyed, 98% have reported an increase in knowledge/digital skills training from our programs. Furthermore, ICTC's Digital Literacy & Skills Roadmap serves as a national roadmap for building Canadian digital literacy and skills in education, industry, government, and at home.  
eTalent is more than a mere platform; it acts as a catalyst for driving Canadian digital transformation. Available free of charge and accessible in both English and French, the platform is continually updated to remain current as digital skills and literacy evolve. We welcome you to explore eTalent and join us in our mission to create a better digital landscape for Canada.  
For more information on eTalent, please visit etalentcanada.ca. 
About ICTC 
The Information and Communications Technology Council (ICTC) is a neutral, not-for-profit national centre of expertise with the mission of strengthening Canada's digital advantage in the global economy. For over 30 years, and with a team of 110 experts, ICTC has delivered forward-looking research, practical policy advice, and capacity building solutions for individuals and businesses. The organization's goal is to ensure that technology is utilized to drive economic growth and innovation and that Canada's workforce remains competitive on a global scale.