Sector
Electronics and Electrical Engineering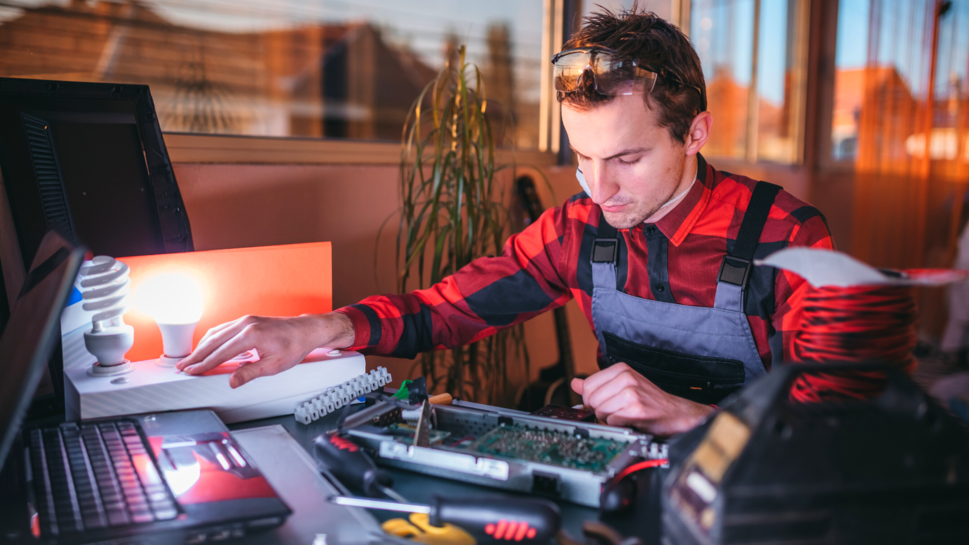 Electronics assemblers and fabricators assemble and fabricate electronic equipment, parts and components. Electronics inspectors and testers inspect and test electronic and electromechanical assemblies, subassemblies, parts and components to ensure conformance to prescribed standards. They are employed in electronics manufacturing plants.
More about this career
Electronics assemblers and fabricators
Solder and manually assemble various electronic components such as resistors, diodes, transistors, capacitors, integrated circuits, switches, wires and other electronic parts to designated locations on printed circuit boards
Assemble microcircuits requiring fine hand assembly, the use of microscopes and adherence to cleanroom procedures
Install, mount, fasten, align and adjust parts, components, wiring and harnesses to subassemblies and assemblies using hand and small power tools
Operate automatic and semi-automatic machines to position, solder and clean prescribed components on printed circuit boards
Operate and monitor process equipment including automatic and semi-automatic machines to fabricate electronic components, solder, clean, seal and stamp components and perform other process operations as specified
Set up process equipment and adhere to cleanroom procedures as required
May replace defective components and repair and overhaul older devices.
 
Electronics inspectors and testers
Inspect electronic components and assemblies to ensure correct component selection and placement, wiring and soldering quality, proper pin insertions, location and diameter of plated holes, breaks in circuitry and line spacing in printed circuit board and other specified requirements while products are being assembled or fabricated
Check final assembly for finish, labelling and packaging methods
Check mechanical dimensions and perform "go-no-go" electrical tests
Identify and mark acceptable and defective assemblies and return faulty assemblies to production for repair
Collect, record and summarize inspection results
Investigate equipment malfunction and instruct on proper operation.
Operate various test equipment and tools to perform simple electrical and continuity testing of electronic components, parts and systems
Set up and operate automatic testing equipment to locate circuit and wiring faults, shorts and component defects
Compare test results to specifications and set parts or products aside for repair or replace components or parts as indicated by test equipment
Maintain test result reports
May conduct life tests (burn-ins) on components, subassemblies and assemblies.
Education
Completion of secondary school is usually required for electronics assemblers, fabricators, inspectors and testers.
On-the-job training is usually provided for occupations in this unit group.
A two-year apprenticeship program and trade certification for electronics assemblers are available but voluntary in Saskatchewan.
Electronics testers may require post-secondary courses in basic electronic theory, testing techniques and testing equipment.
 
Experience
Electronics inspectors and testers may require experience as an electronics assembler or component fabricator.
Capacitor assembler
Circuit board assembler
Component inserting machine operator
Crystal final tester
Electronic components tester
Electronics assembler
Electronics inspector - electronic equipment manufacturing
Finished product inspector - electronic equipment manufacturing
Precision instrument assembler - electronic equipment manufacturing
Printed circuit board (PCB) assembly inspector
Surface mount assembler
Through-hole assembler
Wafer fabrication operator
Wave soldering machine operator
Wiring and assembly operator